Since the 24th of November, 2019 we have been in San Angelo and will be for the foreseeable future. Family circumstances are such that our presence is needed to oversee some things that are in the works.
Which brings us to our experiences in finding a place to park Miss Mosey for the duration. Normally for stays here in San Angelo of 2 weeks or less we simply park in the parking lot of Rio Concho Manor (where Frank's Dad lives) next to the power pole which has 2-30 amp connections. This is great as it only costs $5.00 per day and we can combine the 2-30 amps connections and make a hookup which satisfies our power hungry Miss Mosey. But, and this is a major but, even with extreme tank management and showers in Dad's apartment, a 2 week stay is the limit for our waste tank capacity. We know we are going to be here for at least 2 months, maybe more, so full hookups are in order.
That began our search for an RV park where we could stay as long as we needed to. We drove out to the San Angelo State Park and spoke with one of the Rangers about extended stays. They told us we could stay for a month, but then we would have to leave for 25 hours and we could stay another month. Well, over and over we examined their website with a fine (really fine) tooth comb and we could not figure out how to make a reservation for any stay long than 2 weeks. So all we had to go on was the word of a young Ranger who may or may not be there when we tried to extend our stay. Hmm. I could see a problem happening here.
So I started visiting the various campgrounds in San Angelo. KOA (no monthly spaces available), Spring Park Marina and RV Park (only 2 sites available crammed in amongst other RVers), Huling Mobile Home Park (kinda seedy), Cactus Lane RV and Mobile Home Park (No vancancies), Tucked Away RV Park (No vanancies), and we are seeing a pattern here.
Energy Services contracting is going strong in here in West Texas. Wind turbine farms, gas pipelines, solar panel fields, and even road construction. All of these require workers and a bunch of workers live in RVs and need a place to park them. Good for the RV Parks, but bad for us. There are a few more RV Parks in the San Angelo area, but even with our flexible standards, we didn't want to even consider them. The other thing we discovered, the rates at most of the RV parks were close to the same.
Having discovered that monthly rates amongst the choices didn't vary much, we contacted the owners of Concho Pearl RV Estates (the name is much fancier than the park, but friendlier owners you will not find) whom we knew from previous stays in their park. They said they were full also, but would call back to see if there was something they could do. Sure enough, later that day, they got in touch with us and said we could come on in. There had been some workers moving out and we could stay as long as we needed to.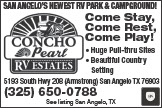 As with all the long term RV Parks in San Angelo this one too, is filled with construction and energy workers. Which makes for an experience opposite that of what we are used to. It is quiet during the days and deserted on the weekends. The workers are gone all day long and they go home (where ever that might be) on the weekends. Normally RV Parks are bustling with activities during those times. During the week, after work, there is some socializing, but these guys are tired and dirty. All they want to do is get cleaned up, eat and go to bed.
We are not in this picture, but we are the only motorhome in the park.
Until next time, when we talk more about the family matters keeping us here in San Angelo.
Obligatory cat picture follows: